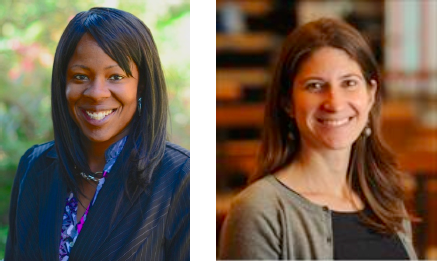 Healthcare Information and Management Systems Society (HIMSS) has named UCSF Center for Excellence in Primary Care (CEPC) director Nwando Olayiwola, MD, MPH, FAAFP, and UCSF Center for Innovation in Access and Quality (CIAQ) co-director Delphine Tuot, MDCM, MAS, as speakers for the 2017 HIMSS Conference & Exhibition, which will be held on February 19-23, 2017, in Orlando, Fla., at the Orange County Convention Center. The vision of improving health and healthcare with information technology has been the focus of HIMSS since its establishment in 1961. As a global voice, convener, and thought leader, HIMSS advises stakeholders on IT best practices to improve the quality, safety, and cost-effectiveness of health and healthcare.
Drs. Olayiwola and Tuot will present "Electronic Consultations to Achieve the Quadruple Aim" on February 21, 2017, at 1 PM EST. Electronic consultation and referral systems (eCR) have improved access to specialty care, enriched primary care-specialty care provider communications, and enhanced care coordination. This session will discuss practical tools and approaches to implement and evaluate an eCR system. Participants will acquire better understanding of organization-specific adoption considerations, as well as Quadruple-Aim-focused evaluation methods for improving cost and efficiency, population health and clinical outcomes, patient experience and provider experience.
For more information on the HIMSS conference and on Drs. Olayiwola and Tuot's presentation, please refer to the full press release below.