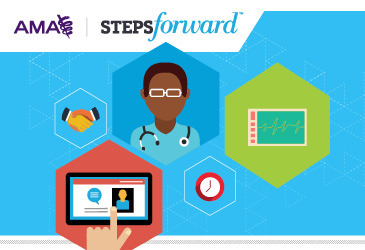 Health care is changing rapidly. Physicians are transforming their practices into organizations that can achieve the Quadruple Aim: better patient experience, better population health, and lower overall costs with improved professional satisfaction. To navigate this environment, the AMA leveraged the findings from the AMA-RAND study, "Factors affecting physician professional satisfaction and their implications for patient care, health systems and health policy," to develop the STEPS Forward™ practice transformation series.
STEPS Forward™ offers innovative strategies that will allow physicians and their staff to thrive in the new health care environment. Together, MGMA and the AMA provide practice managers and clinicians with the data, tools, education, certification, and relationships needed to ensure success in a value‑based payment environment.
Please visit the STEPS Forward™ website here to learn more about these resources.

In partnership with