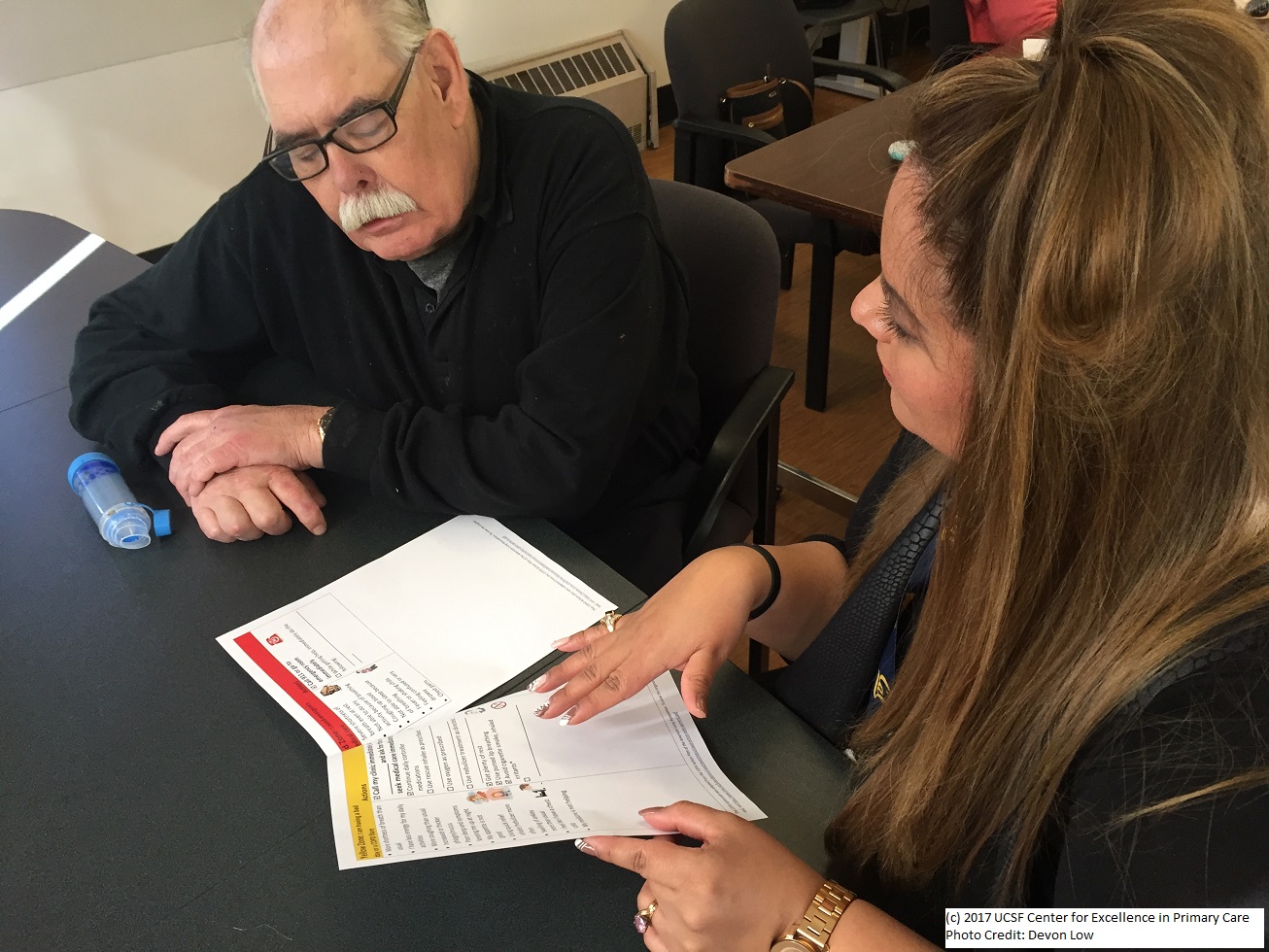 The Aides in Respiration (AIR) Health Coaching Study (2014-2017) was a randomized controlled trial funded by the Patient-Centered Outcomes Research Institute that adapted a health coaching model to the needs of people living with chronic obstructive pulmonary disease (COPD). A collaboration between the UCSF Department of Family and Community Medicine, the UCSF Pulmonary, Critical Care, Allergy and Sleep Medicine Program in the Department Medicine, and 7 community clinics in San Francisco, this study tested a unique model of medical assistant health coaching that supports linkages between primary care and specialty care as well as providing self-management support to patients living with COPD.
Tools to implement health coaching for chronic lung conditions in your practice
Start a conversation with patients about symptoms awareness and timely action with our "COPD Action Plan"
View or adapt our "Research Protocol," including how to we identified and recruited patients and measures used
Download our "Health Coach - Specialist consultation form" to learn more about how we used health coaching to facilitate specialist access
Download inhaler technique guides
Metered dose inhalers
Handihalers
Diskus inhalers
Aerospan inhalers
Ellipta inhalers
Flexhalers
Pressair
Respiclick
Respimat
Twisthalers
---
Read more about health coaching for COPD
Huang B, Willard-Grace R, De Vore D, Wolf J, Chirinos C, Tsao S, Hessler D, Su G, Thom DH. Health coaching to improve self-management and quality of life for low income patients with chronic obstructive pulmonary disease (COPD): protocol for a randomized controlled trial. BMC Pulmonary Medicine. 2017;17:90. doi:10.1186/s12890-017-0433-3.