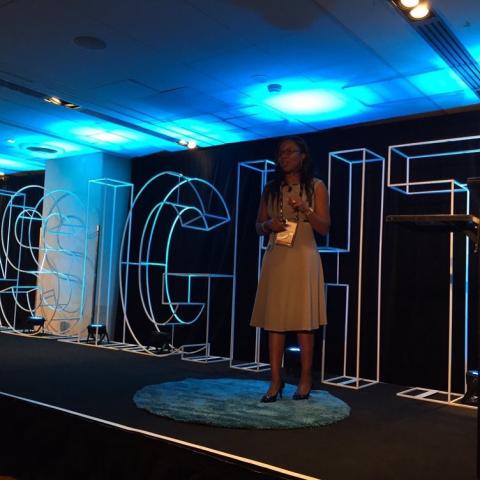 CEPC director Dr. Nwando Olayiwola delivered a riveting talk in the InSight to Incite session of the APAC forum meeting in Sydney, Australia, sharing with the nearly 1400 international delegates some of the lessons and cautions she has learned in practice and PCMH transformation.
Dr. Olayiwola was joined by John Fraser (Director of ICU at St Andrew's War Memorial Hospital, and co-founder and chief medical officer of BiVACOR, a total artificial heart and the Medical Director for the Innovative Cardiovascular Engineering Laboratory, and intensivist at The Prince Charles Hospital, where he founded and heads the multi disciplinary Critical Care Research Group), Devi Prasad Shetty (cardiac surgeon and health entrepreneur, and the chairman, founder, and executive director of Narayana Health), Chris Darwin (founder of the project Darwin's Unfinished Business), Junaid Bajwa (GP, a Clinical Associate on the NHSE New Models of Care Programme, and the Executive Director of Healthcare Services for MSD), and Jim Collins (leadership teacher and author), who each presented important and compelling innovations in health. She will also present on strategies to reduce physician burnout and achieve the Quadruple Aim during the APAC forum.
APAC is the Asia Pacific's premier healthcare conference, and brings together some of the best minds in health and quality improvement from around the globe. Click here to learn more about the APAC Forum.