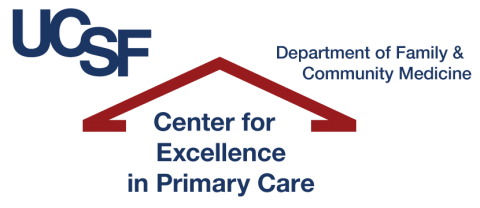 The Center for Excellence in Primary Care (CEPC) identifies, develops, tests, and disseminates promising innovations in primary care to improve the patient experience, enhance population health and health equity, reduce the cost of care, and restore joy and satisfaction in the practice of primary care. CEPC is housed within the Department of Family & Community Medicine at San Francisco General Hospital.

Primary care transformation requires the implementation of essential components of high performing primary care, such as team-based care and data-driven improvement. CEPC calls these the Building Blocks of High Performing Primary Care (http://www.chcf.org/publications/2012/04/building-blocks-primary-care). Drawn from the experiences of high performing primary care practice, the building blocks provide a roadmap to improvements in patient experience, population health, and the sustainability of primary care. CEPC has a unique opportunity to help primary care health centers, both within the safety net for San Francisco and more broadly across the country, integrate these Building Blocks into their practices through training to clinics seeking to implement team based care, panel management, and complex care management.

This role will be for a Program Manager for Practice Coaching and Training within the Practice Coaching and Training arm in the CEPC. This staff member will provide leadership over the practice training services of the CEPC, including program and curriculum development, partnerships with key partners, program reports and Executive team meetings. S/he will also provide direct training for organizations – locally, nationally and internationally - through in-person, remote and longitudinal training programs, using current curricula developed by CEPC. Additionally, s/he will provide direct practice coaching and curriculum development support to the UCSF Department of Family & Community Medicine and affiliate residency teaching programs through a HRSA–funded practice transformation collaborative grant for academic training environments.

As Training Manager, this staff member is responsible for managing all the practice coaching and training activities of the center by assessing the needs of clinics and systems; identifying competencies and objectives for training; developing and testing curriculum, training protocols and evaluation tools; mentoring and training leadership, clinicians and staff at clinics; training and supervising practice coaches and trainers; facilitating the spread of the Building Blocks of primary care transformation model throughout primary care clinics in the United States and internationally via publications, conferences and trainings; creating training budgets and overseeing training expenditures; and handling personnel and human resources activities of practice coaches, trainers, and consultants.

As a Practice Coach, this staff member will work "shoulder to shoulder" as a coach with the leaders and staff of the Department of Family and Community Medicine (FCM) academic practice transformation collaborative clinics to identify goals, observe existing practices, identify barriers to implementation of new models, and work in collaboration with clinic leadership to help facilitate successful organizational change. They will also work in concert with the FCM residency leadership on translating the current practice transformation curriculum to meet the needs of the teaching programs and the learning environment. This position will require coaching around the principles of high performing primary care and empowering and supporting staff to make small tests of change (PDSA cycles), collaborating with clinic and residency leadership to provided skills-based training and on-the-floor coaching, and monitoring clinic metrics to determine success. S/he will meet and communicate regularly with collaborators and with the department, clinic and residency staff and leadership. In this role, s/he will provide training on the Ten Building Blocks curriculum to academic teaching practices in the larger collaborative, plus other CEPC practice transformation trainings as scheduled.

As a Supervisor, this staff member will have responsibility for supervision of practice coaches and trainers in the CEPC, serving as their primary liaison for departmental, center and organizational needs. The position directly supervises two to three full-time staff practice coaches and trainers and a few consultants. The Supervisor will use train-the-trainer methods to ensure that training team members can successfully deliver all training and practice facilitation modules of the CEPC. S/he will support staff in coaching clinics in their transformation processes, and provide quality assurance by conducting direct observation of trainings and providing feedback to team members.
To apply, please visit jobs.ucsf.edu and search for Requisition number 47393BR