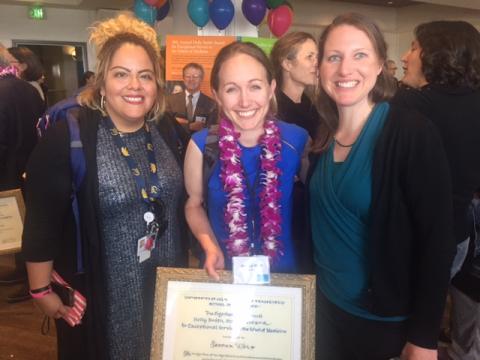 CEPC health coach Jessica Wolf wins prestigious Holly Smith service award!
The Lloyd Holly Smith Award for Exceptional Service to the School of Medicine was established in 2000 to recognize exceptional career service that has resulted in broad and long-lasting benefit to the School of Medicine. The award is named for Lloyd H. (Holly) Smith, Jr., whose 35-year career as chair of medicine and associate dean exemplified such an outstanding career effort.
Nominations are sought for up to four awards in the following categories: faculty with more than 10 years of service, faculty with 5 to 10 years of service, and up to two staff awards. The winners are deemed to exhibit those qualities best exemplified by Holly Smith: dedication to the School of Medicine, diversity in roles played, commitment to sustaining UCSF's position as a world-class institution, and accomplishing all of the above with humor and grace.